I Can't Study At Home. These Cafes Are Great To Mug At Without Being Chased Out.

Best cafes to study and work
My world changed after I did badly on my PSLE in 2010. I remember running away from the school hall after receiving my certificate and leaving behind my parents to wonder what happened. From that day on, I started taking my education more seriously and began mugging more. No matter how hard I try to concentrate while studying, I cannot resist the allure of belly-flopping on my cosy bed and soft pillow. That's why I started studying in cafes to avoid distractions at home. Seeing others study puts pressure on me to concentrate rather than procrastinate.
It's so awkward if I just sat there playing with my phone; people will wonder why I'm taking up so much space when I'm not even working.
However, there are some drawbacks. Even though I know I shouldn't be hogging seats during peak hours, being chased out is one of my pet peeves. I've been chased out of many places while trying to do some work. The worst is when I'm in the middle of an online class that requires my camera to be turned on; the entire class can see me awkwardly moving about looking like a hobo.
Here are some of my criteria for selecting a study location.
Won't get chased out
Charging ports
Food and drinks
Not too noisy
Wi-Fi
Here are my top three cafes for work and study where you can stay until closing time.
Well Collective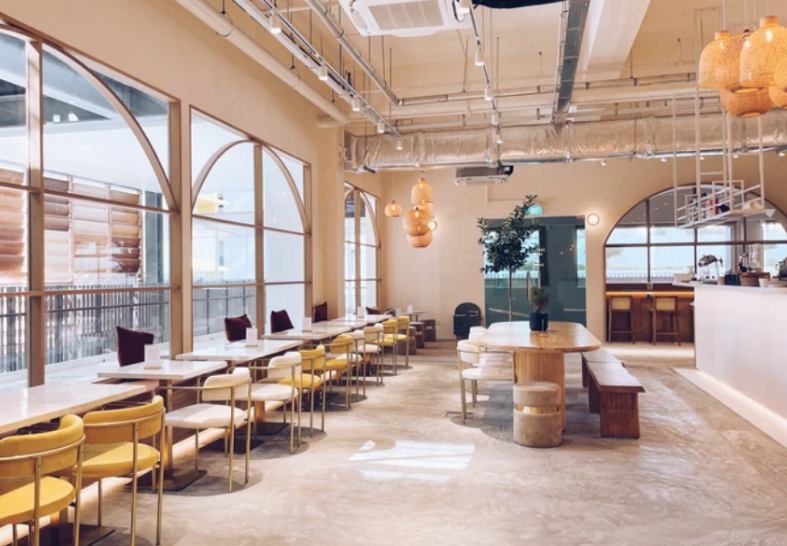 As a broke student, I usually drink my coffee very slowly so that when a staff member approaches, I can swirl my coffee. This, in turn, signals to the staff that I've yet to finish my drink which then allows me to continue sitting there. They're probably wondering why I have an infinite amount of coffee but who cares?
This cafe, on the other hand, has free-flow water. As such, I can study without worrying about dwindling my money if I keep ordering new drinks. Being a broke student means that I require free Wi-Fi because my data plan be sad.
Given that my ancient laptop has a pathetic battery life, I also need a place with charging ports. This cafe has several power outlets throughout the seating areas, making it ideal for work.
There's a downside to this place. Well Collective is a pet-friendly cafe so you'll get to see cute and fluffy dogs! This means the likelihood of you being distracted increases exponentially.
A bonus point about this place is that it's close to a waterfront. So, whenever I need a break, I can go for a stroll and gaze out at the sea, pretending I'm in a Korean drama.
The food here is slightly more expensive but it's worth it due to its tastiness. I would usually order an Iced Chai Latte ($7) because the spice keeps me awake as I chiong through my lecture notes.
It meets the following of my criteria:
Won't get chased out
Charging ports
Not too noisy
Wi-Fi
| | |
| --- | --- |
| | 418 Northshore Drive, #02-11/12, Northshore Plaza 2, Singapore 820418 |
| | 10am to 10pm daily |
| | 6979 6442 |
| | Menu |
Foreword Coffee Roasters @ Temasek Shophouse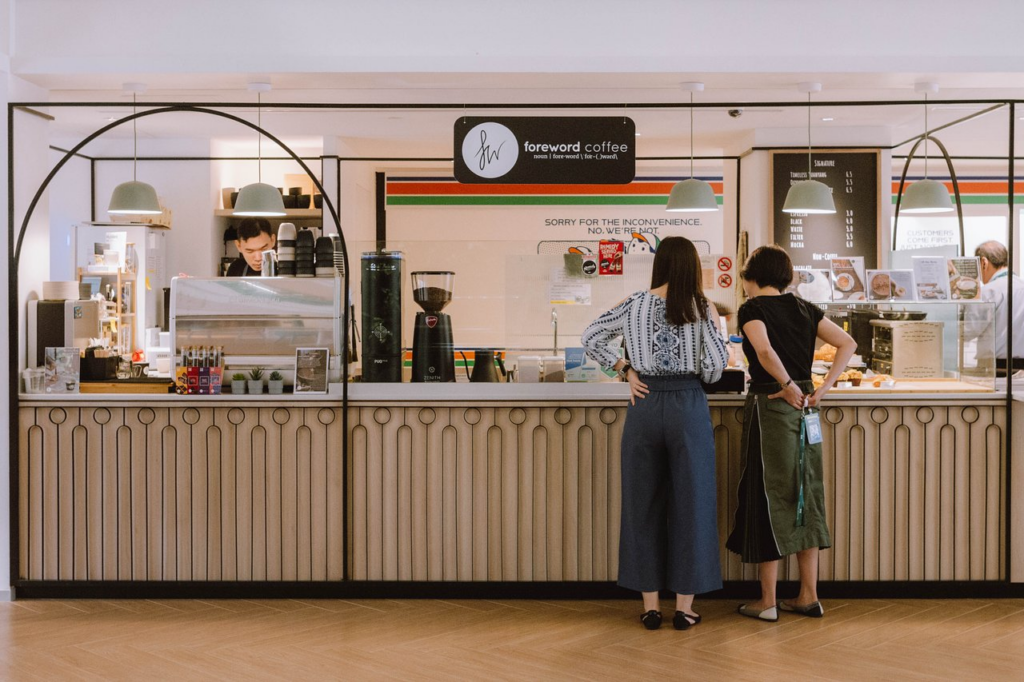 My friends and I will study in town on certain days so that we can reward ourselves with a small shopping spree afterwards. My favourite spot is Foreword Coffee Roasters. I remember walking into a green oasis filled with lush greenery. The cafe has an outdoor garden, a large interior, and many seats inside.
I remember my parents telling me to look at greenery from afar to rest my eyes when I'm taking a short break from studying. I like to go on a short stroll at the outdoor garden when I'm taking a break because it is very peaceful.
When I study, I get hungry easily because my brain requires energy to function. Years of studying taught me that I can't concentrate when I'm hungry.
That's why I love their reasonably priced pastries ranging from $3.50 to $4. Their Pain Au Chocolat ($4) is my favourite because it's buttery and flaky. I also enjoy their Iced Spiced Chai ($6.50), which contains fragrant spices that keep me awake while mugging my ass off.
A bonus point about this place is that they are an inclusive establishment that employs people with special needs.
It meets the following of my criteria:
Won't get chased out
Charging ports
Affordable food and drinks
Not too noisy
Wi-Fi
| | |
| --- | --- |
| | 28 Orchard Road, Singapore 238832 |
| | 8am to 5pm (Mon-Fri), 11am to 4pm (Sat-Sun) |
| | 8949 0142 |
Cowpresso Coffee Roasters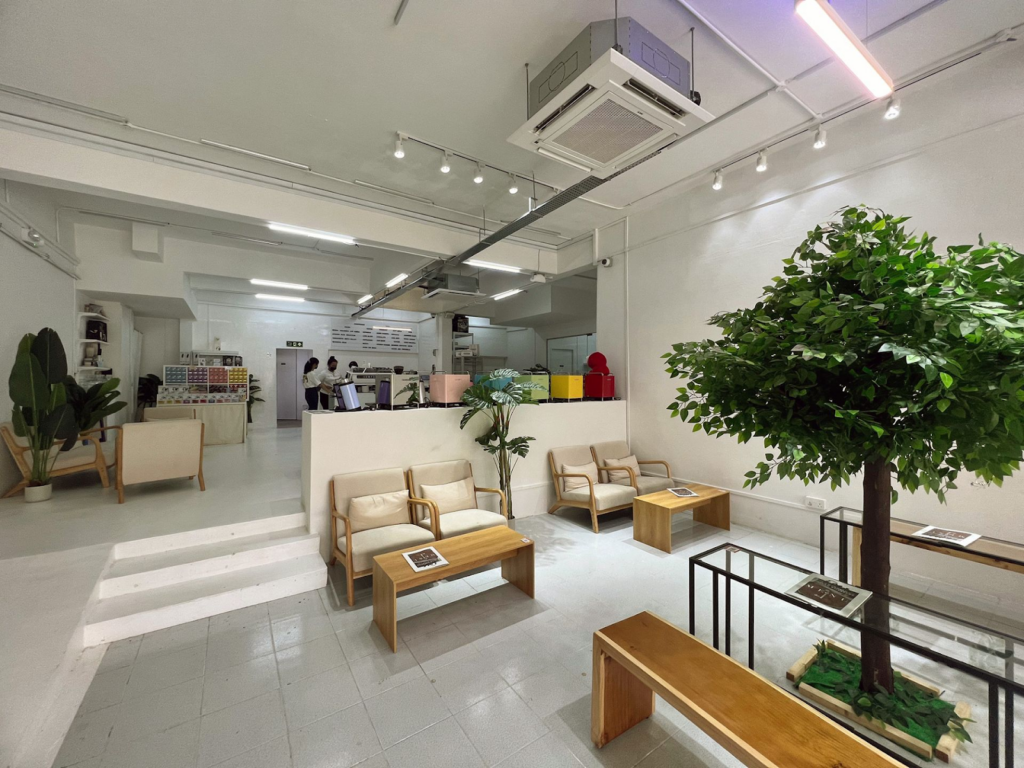 As I got older, I've developed a taste for black coffee. If you are a caffeine addict like me, you will understand how expensive it is to maintain a caffeine addiction. That's why I like this place so much: on weekdays, the cafe offers free-flow hot long black coffee to keep you caffeinated as you mug your ass off. If you prefer your drink cold, you can add $1 to get an iced Long Black instead.
Growing up with gastric issues, I've been warned by my parents that drinking coffee on an empty stomach is unhealthy as it may worsen my gastric issues. However, I recently found out that the theory had been debunked by experts. If you would like to be more careful about it, Cowpresso's food options are a little more affordable than cafes around the area.
They sell reasonably priced brioche donuts (from $4.90) with my personal favourite being the Honey Original Donut with Roasted Pistachio Softserve ($10.90). Because I'm a fan of mentaiko, I love their Furikake Mentaiko Fries ($13). They also sell pastas if you're looking for something heavier.
It meets the following of my criteria:
Won't get chased out
Affordable food and drinks
Not too noisy
Wi-Fi
| | |
| --- | --- |
| | 21 Lorong Kilat, #01-07, Singapore 598123 |
| | 10am to 8pm (Wed-Thurs), 12pm to 10pm (Fri), 10am to 10pm (Sat-Sun) |
| | 8550 8143 |
| | Order on GrabFood |
Work and study at these cafes so that you won't get chased out
Finding a good conducive place to study at is important. Never get chased away in the middle of class or a meeting ever again! Studying outside helped me study more effectively and consistently achieve high grades. Everyone has different study habits; some can study at home while others, like me, can only study outside. However, I hope that these three locations will assist you in becoming more focused and receiving As on your future exams or assignments.
I can only study outside and this is my story. Now tell me yours!
What's Your Reaction?
I have a different opinion
0
Thank you for sharing your story
4