What Does A Master Chef Eat On His Off Days? Here's Where My Dad Goes.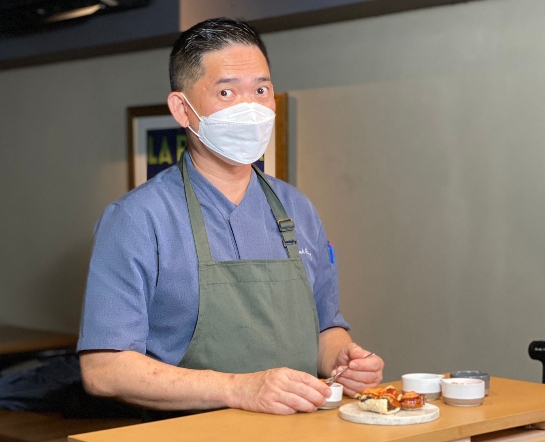 Food places recommended by my master chef father
As someone whose dad is a master chef, one of the things I get asked often is, "What's it like growing up with him?" My answer, "To say he's picky is an understatement." Most people assume that as a chef, he would be the one cooking all our meals. Ironically, we eat out 90% of the time. I don't blame him though. You try cooking 14 hours a day, seven days a week. You probably wouldn't be in the mood to cook at home afterwards either.
However, working long hours in the kitchen taught him the importance of family time. "I don't want to be an absent father," he explained. For my dad, his job also means coming home to a dark and quiet house where everyone's already asleep."The only days I can fully spend time with my family are Saturday mornings and Sundays. As a result, I treasure the time." And I treasure them too.
We set aside every Sunday and his free days to go out to eat as a family. My siblings and I will spend 10 minutes on the couch eliminating food options he will dislike before pitching him the remaining locations. Here's how he makes the final decision:
Service
Food
Waiting time
Using that metric, here are the top five food places he enjoys and frequents.
Lau Wang Claypot Delights 老王砂煲
One of the perks of being a chef is getting to try food from all over the world. But home is where the heart is.
"I've tried numerous delicious foods throughout the 16 years of being a chef, but nothing beats the taste and simplicity of home-cooked food."
"Good food doesn't have to be complicated," he says all the time. That's why he enjoys Lau Wang Claypot Delights. It reminds him of my late great-grandmother. "Even today, I miss her a lot, and nothing beats her cooking."
The restaurant's interior is cosy, with dim lighting and pictures hanging on the walls. Every time I go there, the restaurant is full of families eating together. I'm always amazed at how quickly their food is prepared and served. For real, we get our food within five minutes of our arrival.
The food here is served piping hot and that's what my dad loves about the place. "I dislike cold and warm food because it gives me the impression that it was not freshly prepared."
Honestly, I can't relate. I am perfectly fine with eating warm food as long as it hasn't been left out for an extended period of time. Like it's such a hassle for me whenever he asks for sizzling hot fries and nuggets at McDonald's.
One thing my dad and I do share is our love for spicy food. So whenever we come here, we'll order the Mala Prawns with Lotus Roots ($12), which is incredibly aromatic and spicy, and the Signature Claypot Sesame Chicken (from $6.30) that's tender and flavourful.
| | |
| --- | --- |
| | 263 Serangoon Central Drive, #01-43, Singapore 550263 |
| | 11am to 9:45pm daily |
| | 9001 0814 |
| | Order on GrabFood |
Koh Grill & Sushi Bar
As someone who loves fish and Japanese cuisine, I am astounded by how much my father dislikes fish. Apparently, he hates how it tastes and smells. Again, can't relate because if I could, I'd eat sushi every day.
You'd think a chef will be able to eat almost anything because they have to do so many food tastings.
Well, turns out eating sashimi or anything with fish that is not fresh is torture for him. He currently works in a Japanese sake bar which specialises in japas, where he serves sashimi. Which is why I highly trust his review of Koh Grill & Sushi Bar.
"Even though I don't like eating fish, I love the aburi salmon here because it melts in your mouth."
My father loves how it's wallet-friendly and has good maki. "Good food doesn't have to be expensive." And I agree. Like many Singaporeans, I will gladly join the long queues for Koh Grill because it's simply that good.
Shiok Maki is the signature dish at the sushi bar. I love their Shiok Maki 1st Gen ($18.80), which is stuffed with tender unagi and creamy avocado. I also recommend their Shiok Maki 2nd Gen ($18.80), which is filled with crispy fried ebi and wakame seaweed. Both 'generations' of Shiok Maki are topped with aburi salmon, drenched in their 'secret sauce' that tastes like mentaiko and generously topped with tobiko.
| | |
| --- | --- |
| | 435 Orchard Road, #04-21, Wisma Atria, Singapore 238877 |
| | 11:30am to 10pm daily |
| | 9180 3805 |
Long Kee Carrot Cake (龙记菜头粿)
They say that blood is thicker than water. However, nostalgia plays a larger role in this case. My father grew up eating carrot cake from Long Kee Carrot Cake in Ang Mo Kio. He might be a little biased but this carrot cake still won his heart out of all the carrot cake hawker stalls in Singapore.
Fun fact: our relative also has a carrot cake stall in the very same hawker centre. Despite the risk of awkward reunion dinners, my dad will gladly choose Long Kee Carrot Cake every day.
He enjoys white carrot cakes with a strong wok hey flavour, spicy chilli, and easy-to-chew cubes. This stall, he said, "checked all the boxes for a good carrot cake." My dad even said "it was so good that I even wanted to be the owner's mentee."
Good carrot cake also means that the queue for this stall is constantly long. However, it is well-worth the wait. Their White Carrot Cake ($2.50 to $4) is also amongst the best I've ever had. One plate is never enough! I can devour two on my own. I love how fragrant the fried carrot cake is, and the fact that I can pay an extra 50 cents to add more egg to my carrot cake!
Personally, I love Long Kee and Ang Mo Kio in general as my parents grew up with it. Visiting these places allows me to learn more about my family and their history.
| | |
| --- | --- |
| | 409 Ang Mo Kio Avenue 10, #01-19, Singapore 560409 |
| | 8am to 12pm daily |
Comida Mexicana Singapore
My dad used to work as a consultant for a Mexican restaurant in Macau. He went through lots of food tastings and tried several mouth-watering Mexican foods. After coming back to Singapore, he felt that it's harder to find restaurants with authentic Mexican flavour and tantalising Mexican food. However, he loves the food at Comida Mexicana Singapore because of the owner's commitment to quality and the use of fresh ingredients at all times.
"I strongly believe that this should be on your must-visit list, this Mexican restaurant is one of Katong's hidden gems, though it is a little pricey".
He would order the off-the-menu Crab and Avocado Quesadillas, which are stuffed with fresh avocado and crabmeat and served with homemade guacamole and pico de gallo. The boneless Mexican Yucatan Chicken Skewers ($30) are a must-order, the chicken is tender and juicy. It's also glazed with orange and lemon juice for added flavour and a gleaming appearance.
| | |
| --- | --- |
| | 404 East Coast Road, Singapore 428998 |
| | 11:30am to 2pm, 6pm to 10pm (Tues-Sun) |
| | 6440 8030 |
| | Order on GrabFood |
TamJai SamGor
I was greeted by a strong and fragrant mala scent when my father first brought the family to TamJai SamGor. I knew I'd enjoy the food here right away because I'm a huge fan of mala.
When I asked him how he learned about this restaurant, he said "When I was in Hong Kong, I would frequent TamJai SanGe, and I was ecstatic to learn that the casual restaurant chain opened a few outlets in Singapore."
Featured on Hong Hong Kong's famous Michelin Bib Gourmand list, TamJai SamGor didn't disappoint. "I love their mala soup, al dente noodles, intensely flavoured soups, and their high customisability," he said.
A basic Mixian ($6.50) comes with fragrant clear soup with one topping. You start your DIY journey by first choosing your toppings, followed by your soup base and then the spiciness level. I have a five-year-old sister who can't handle spicy food. So we usually can't eat at a mala place with her. "I love how I can choose the spicy level of the soup base because your meimei (younger sister) can eat," he said. There's tomato, fragrant, clear, and wu la soup for people with low spice tolerance.
My dad would also order their Herb Chicken Mid Wings ($4.80/ $6.80) that has a strong herbal, peppery flavour and their Tufei Chicken Mid-Wings ($4.80/ $6.80) that is similar to har jeong gai. I always leave the restaurant too full to walk because of their large portion sizes.
| | |
| --- | --- |
| | 133 New Bridge Road, #01-01, Chinatown Point, Singapore 059413 |
| | 11am to 9:30pm daily |
| | 6223 1167 |
| | Order on GrabFood |
Growing up with a master chef father
Despite eating out 90% of the time, we also eat at home every now and then. On those days, he will make the standard rice or porridge with fried egg, vegetables, and soy sauce chicken or luncheon meat with baked beans. He'll also cook fried bee hoon with pig trotters on occasion. Everyone has different tastes; I'm proud of my dad because growing up, I witnessed my father's struggles while working in the food and beverage industry.
He persevered through many difficult times to become a respected chef. To say I am proud of my father is an understatement. I believe that because he has years of experience, he can tell the difference between good and bad food.
As a result, I'm writing to share what he enjoys in the hopes that others will as well. I believe that a benefit I have from being a chef's daughter is that I constantly receive good food recommendations from him. I guess being a chef's daughter isn't that bad.
I grew up with a father who's a master chef, and this is my story. Now tell me yours!
What's Your Reaction?
I have a different opinion
0
Thank you for sharing your story
11