I've Been Harassed Multiple Times On TeleHitch. Here's Why I Still Use It.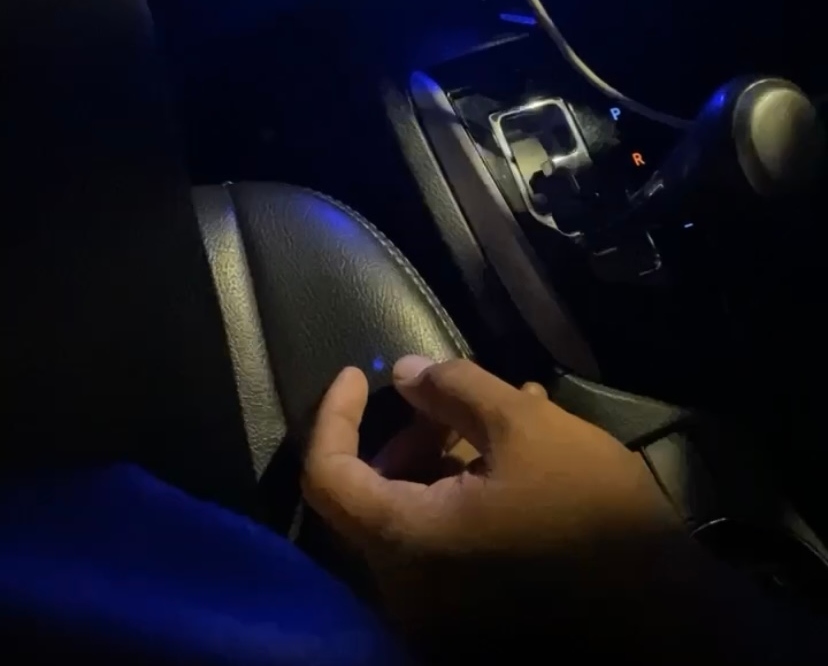 Using TeleHitch in Singapore
The day GrabHitch stopped being a 24-hour service was a sad day for clubbers and night-shift workers alike. As someone who belonged to both categories, I had to find other ways to get cheap rides home. No way was I gonna spend $40+ three times a week to travel to the West. Thankfully, an alternative arrived in the form of SG Hitch, or as it's more commonly known, TeleHitch.
This Telegram group comprises both hitchers and drivers. All I had to do was simply drop a text in the group chat with my pick-up and drop-off locations, as well as the date and time. Drivers will then DM me to settle on a fair price for the service.
Seems simple enough, right?
Wrong.
Despite a vast majority of the drivers on the app being nice people, there is still a sizeable handful of chauvinistic men who will prey on women hitchers by trying to get sexual services in exchange for free rides. Some will be blatant about it; others will subtly try to invite you to their homes "for a drink". I've received so many inappropriate requests that I'm able to an album out of it.
Exhibit A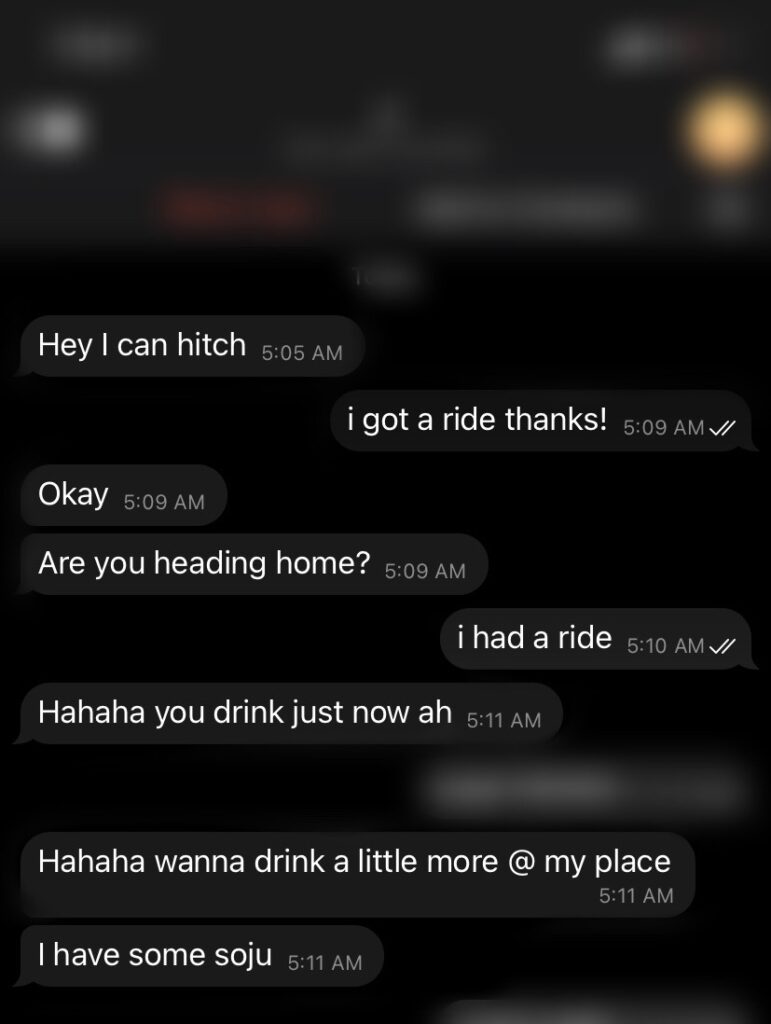 A prime example of the "subtle predator". This guy knew I had just finished clubbing and tried to entice me with even more alcohol. Tempting but sorry. I'm sober and cautious enough to not put myself in a potentially compromising position.
Exhibit B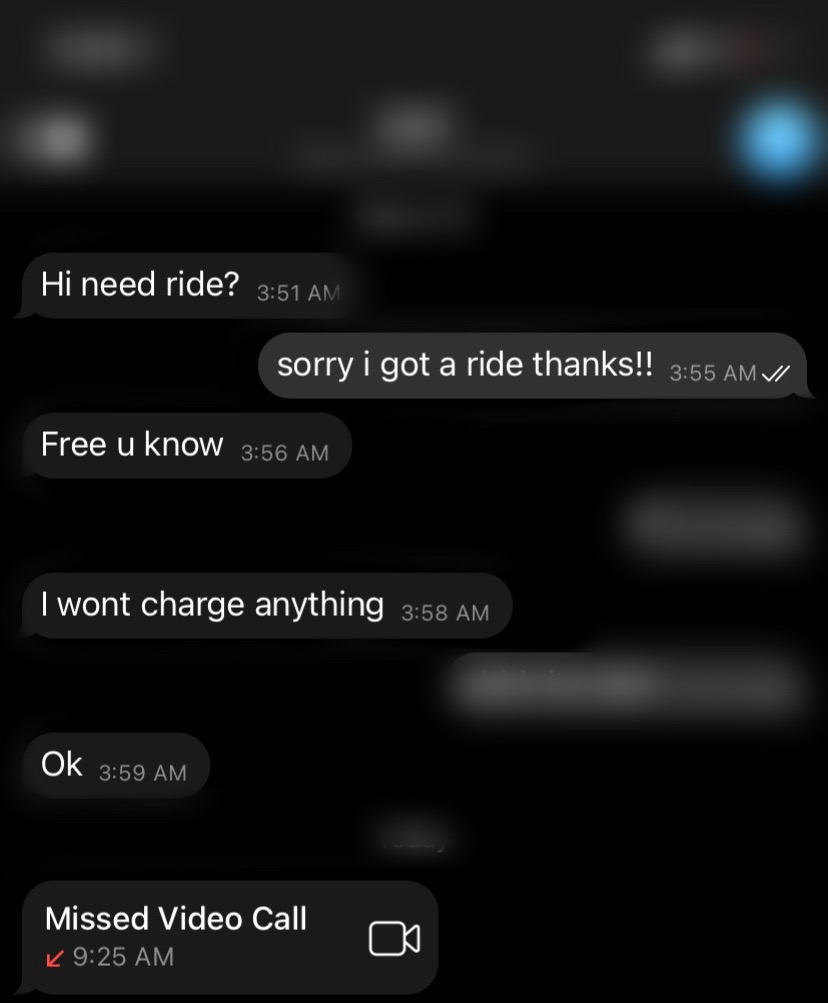 Red Flag #1: Insisting on offering a free ride at 4am.
Red Flag #2: Trying to video call me in the morning, even after I said no.
Result: Blocked.
Exhibit C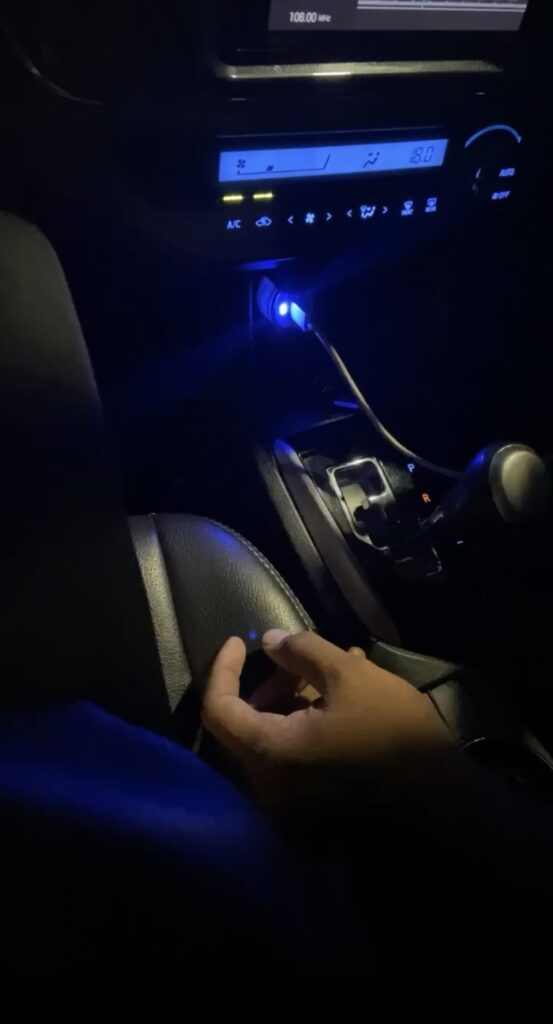 This was by far the scariest experience I had. This guy made me sit right in front because his back seat "was too filthy and messy."
It was spotless.
At this point, I should have been suspicious but I was too tired. As such, I just went along with it.
As a certified introvert, I didn't want to talk at all, so I plugged in my earpiece and used my phone during the ride.
20 minutes into the car ride, I started feeling suspicious.
After all, my house was usually only a seven-minute drive from my pick-up spot.
I looked up to see where I was, only to be taken aback by the sight of his hand on my seat, right next to my thigh.
There was absolutely no reason for his hand to be there. After all, he's driving an automatic car.
I immediately became more aware of my surroundings and prayed that I would be able to get home quickly. I decided to subtly record a video, in case anything bad happened. I remembered feeling so tensed that I actually had a panic attack after getting out of the car.
Why I still use TeleHitch
By now, some of you might be wondering, "Why is she still in the group chat?!?" While that's a perfectly valid reaction, I would be remiss if I didn't mention that my positive experiences on TeleHitch far outweighed the negative ones. Plus, my night shifts mean that I absolutely have to rely on it for a long time.
So how do I stay safe then? By being extra alert and cautious whenever I use TeleHitch. This means texting a loved one the license plate number of every hitch ride I'm in, sending my "Live Location" whenever I feel like I have a suss driver, and setting boundaries with them.
For those who are contemplating joining the group, I hope this article has helped you make an informed decision about the pros and potential cons of joining SG Hitch.
I've been harassed on TeleHitch, and this is my story. Share with me the horror stories you experienced as a passenger below!
What's Your Reaction?
I have a different opinion
0
Thank you for sharing your story
0