I've Been Eating Alone Since My Break-Up And Found Out What Self-Care And Courage Really Mean.

The joy of eating alone
Love is amazing but it also hurts. I've had three exes in total but my last relationship was the one that hurt the most. Everything felt right with him, and I actually saw a future together. But life had other plans and we ended up splitting in just six months. I was devastated and heartbroken. It felt like the entire world had collapsed, and I was in no mood to do anything. I had to put on a brave face even though I was dying on the inside. I cried pretty much everywhere—in the MRT, during work, and even during meals. Over time, I got better. But I was not going to let myself get hurt like that again. So, I stopped dating. Instead, I started to love myself more. This meant trying new and exciting things like bouldering, going to spin classes, and eating alone. Your girl was prioritising self-care for the first time in her life.
Back then, I hated dining alone as I was scared of what other people would think of me. Now, I enjoy it as it allows me to be one with my thoughts and lets me take a breather from my hectic schedule. If you're looking for good restaurants to eat alone or simply take a break from the world, I highly recommend these places.
Genki Sushi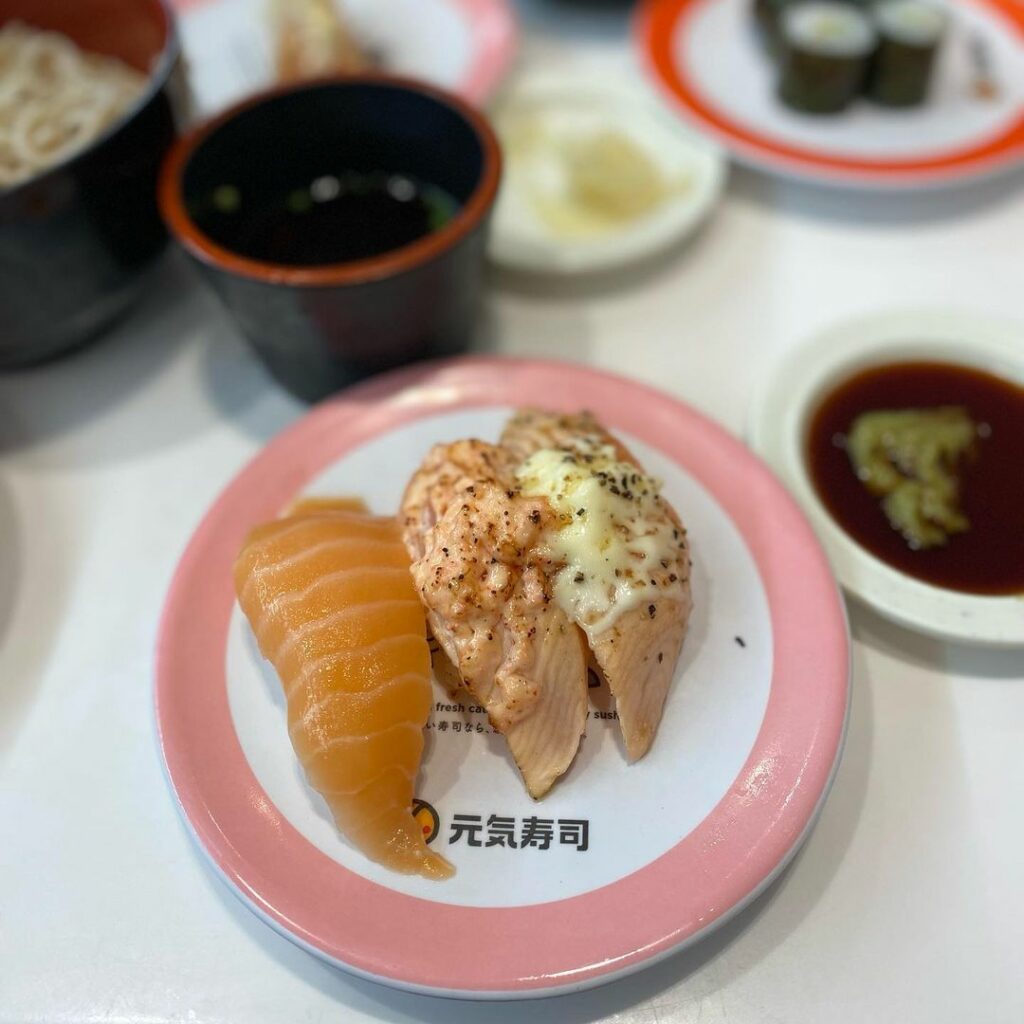 Sushiro, Sushi Express, and One Sushi are just a few examples of solo dining sushi restaurants. But why Genki? Nothing beats their mentaiko sauce and the quality of their sashimi for their prices. Here, I can eat in peace without worrying about getting crappy seafood.
Plus, I've never been here with any of my exes, so I can eat comfortably without suddenly reminiscing and bursting into tears.
I like how they have so many outlets throughout Singapore as it makes solo-dining easier no matter where and when I crave sushi.
As someone who has grown to hate crowds, I've realised that the best time to dine here is between 11am to 12pm, and 3pm to 5pm. I can truly eat in peace without having to hear YPs shouting across tables. Their member app is also something that I've grown to appreciate as it allows me to redeem points and skip queues so that I can eat and leave ASAP.
| | |
| --- | --- |
| | 3 Gateway Drive, #03-05, Westgate, Singapore 608532 |
| | 11am to 10pm daily |
| | 6974 0472 |
| | Order on GrabFood |
Mama Diam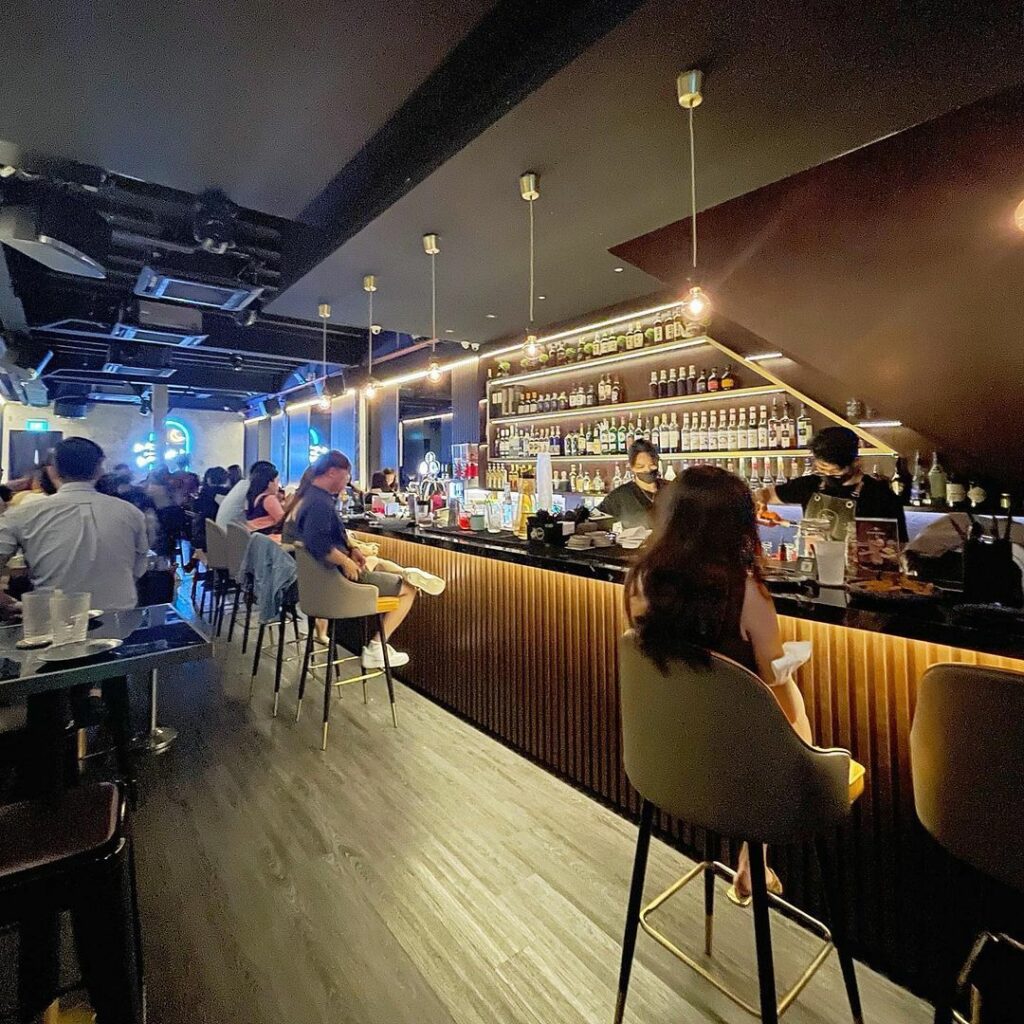 Some days, I feel a little bougie when I'm out alone. On those days, I'll treat myself at Mama Diam. I remember being in this bar alone for my solo birthday celebration. Initially, I felt rather awkward as it was my second time dining alone in a bar setting. I was sitting near the cashier and the waitresses and bartenders would walk past pretty much every second. Thankfully, the staff members were really nice and made sure I was well taken care of. They even offered to extend my dining hour limit till the end of the day as I was celebrating my birthday myself.
Sure, it might have been a bit sad but I got a free bespoke cocktail out of it! It was very thoughtful of them, and being able to celebrate my special day there warmed my heart.
Oh, and because I was alone, a guy sitting next to me at the bar offered me a drink from his bottle. I suppose being a girl has its advantages.
We had a brief conversation and I made a new friend! Definitely a memorable location for me and not a bad place to be hanging out alone. But just don't get drunk by yourself; it's dangerous.
My only complaint is that they might wanna tone the music down a little to suit the mood of a solo dining experience. The last time I was here, the music was rather loud and upbeat.
| | |
| --- | --- |
| | 38 Prinsep Street, Singapore 188665 |
| | 4pm to 10:30pm (Sun-Thurs), 4pm to 12am (Fri-Sat) |
| | 8533 0792 |
Shi Li Fang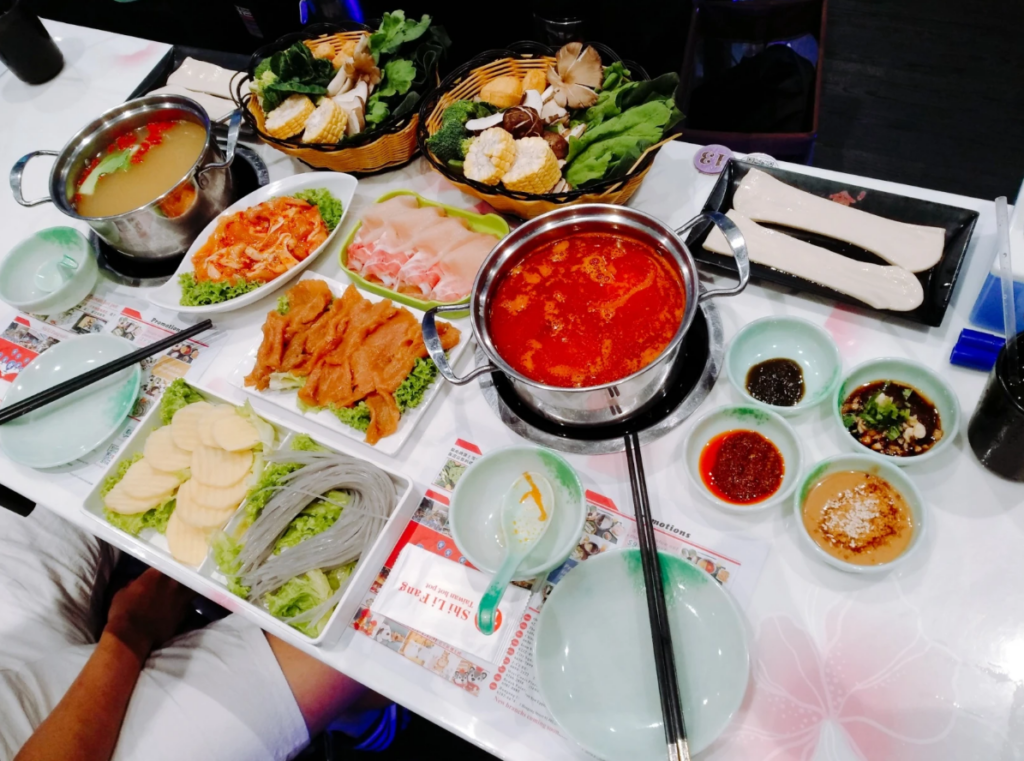 I read somewhere that eating hotpot alone is one of the saddest things you can do to yourself. But who cares? I find peace and joy in dining alone as I get older. It's pretty much self-care time anyways.
The first time I ate hotpot alone was on a rainy day. I was in the mood for filling yet comforting food, so I headed to Shi Li Fang. Thankfully for me, they have individual pots.
And thankfully for my wallet, they have whole-day set meals that only cost $9.90! For that amount, I got a soup base, a plate of meat, a choice of carbohydrates, and a vegetable basket. Doesn't sound sad to me!
It felt very cosy and comfortable to dine alone without having to worry about what food to share or how much to eat to make my money's worth. Since eating hotpot alone is a doable venture, I might just try doing it at Hai Di Lao next where they'll give me a plush toy to eat with so I don't feel so lonely!
| | |
| --- | --- |
| | 180 Kitchener Road, #02-53/54, City Square Mall, Singapore 208539 |
| | 11am to 10pm daily |
| | 6636 7899 |
| | Order on GrabFood |
Yakiniku-GO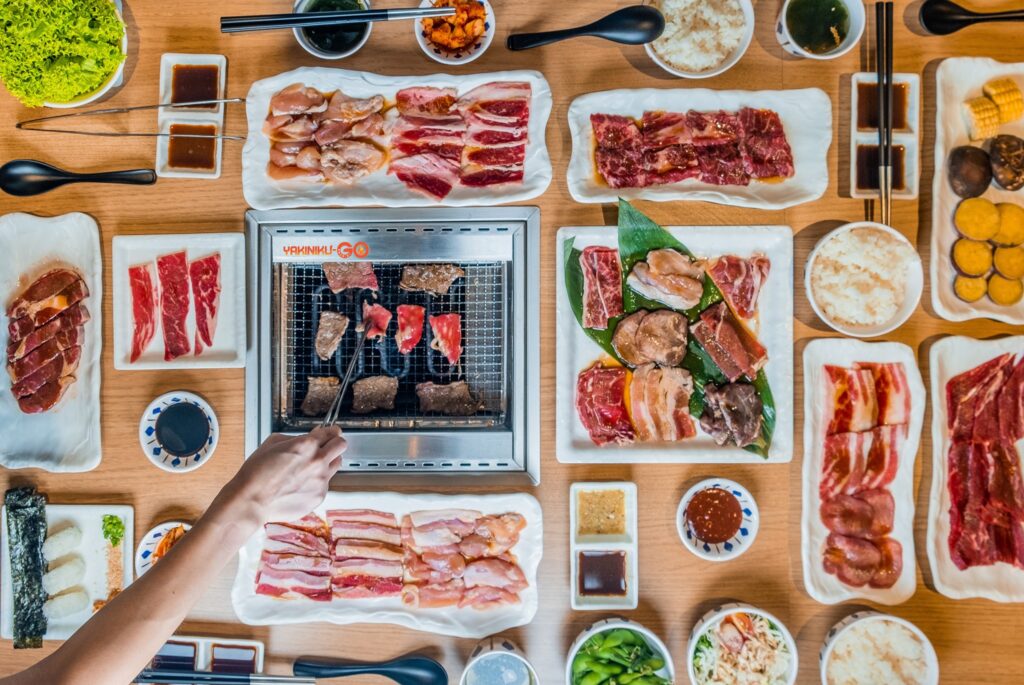 Don't worry, I didn't forget about BBQ! Yakiniku-GO has individual electric grills that are ideal for solo diners. More importantly, the grills are smoke-free, so you won't be smelling like meat after your meal.
I remember visiting their Jurong Point outlet which, by the way, gets extremely crowded during peak hours. Fortunately, I had a late lunch at 2 pm, when the restaurant was nearly empty. I ordered their Signature Yakiniku-GO set (100g) which included a ribeye steak, my choice of meat, rice, soup, kimchi, and salad for just $16.80!
Everything is nicely set up for you, and all you have to do is grill it to your liking. Of course, I took my time to grill the meat to fully savour my alone time.
Surprisingly, the accompanying sauce on the side was delicious, tangy, and addictive. It was so good that I had to request for more. I swear I could eat it all day. I kind of wished I hadn't ordered that set because it was clearly too much for me, but I was still satisfied. The only disappointment was the service which was slow.
| | |
| --- | --- |
| | 1 Jurong West Central 2, #B1-55, Jurong Point, Singapore 648886 |
| | 11am to 10pm daily |
| | 6792 1283 |
| | Order on GrabFood |
Noodle Star K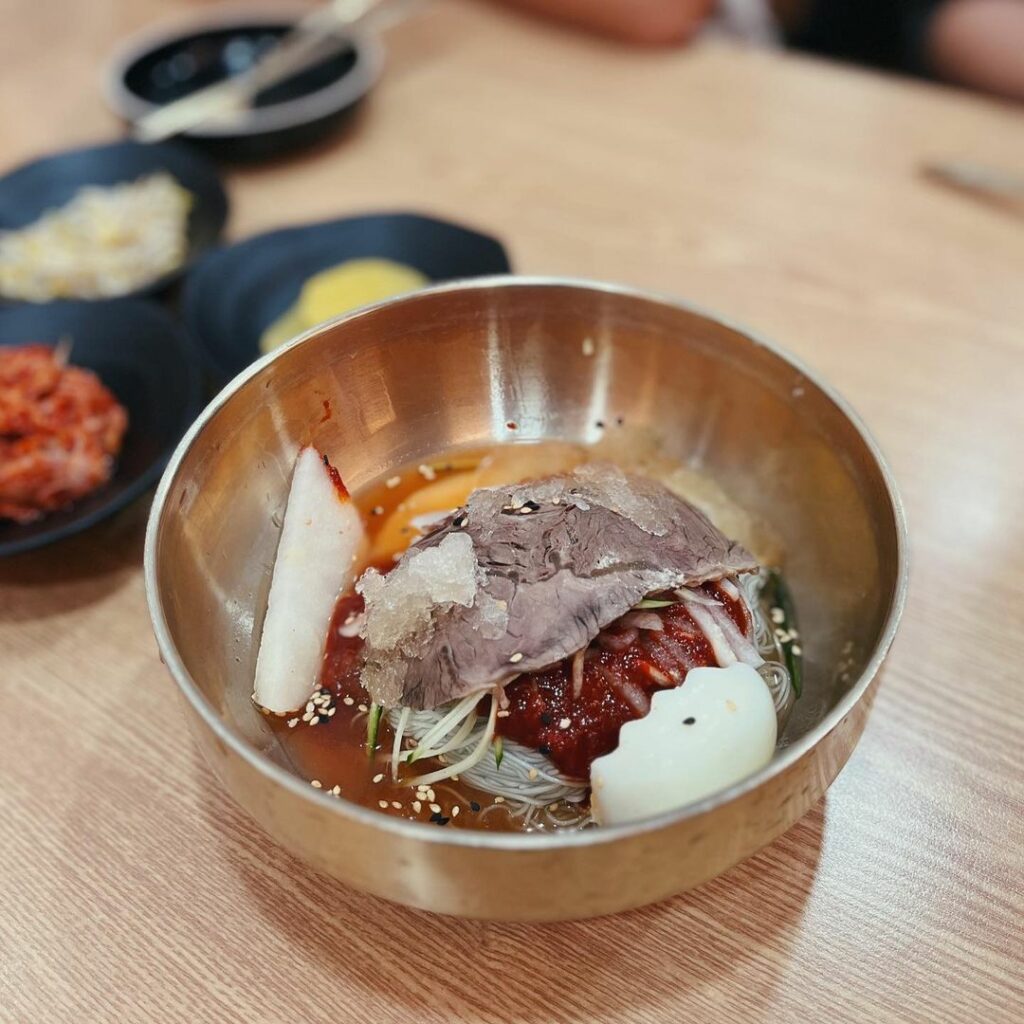 I love Korean food and always brought my exes with me to satisfy my cravings. But I couldn't eat it as often as I wanted to because most of them preferred Japanese food. Maybe that's why my relationships didn't work out.
Nonetheless, my love for Korean food will remain—even if I'm going SOLO like Jennie. I visit Noodle Star K frequently because I adore their noodle dish. And I'm a sucker for Mul Naengmyeon ($16.80), which comprises noodles in a cold soup with beef, chicken or radish water kimchi.
I like how they serve you a cup of hot beef broth whenever you order a cold noodle. That cup of beef broth SLAPS harder than Will Smith. Their side dishes are also delicious, especially their bean sprouts. The best part is that they're all refillable.
I would always introduce my exes to dishes I enjoy. Since I have interesting taste buds, that meant that they had to try things they wouldn't normally eat. I remember one of my ex-boyfriends who despised cold food. He hesitantly tried the cold noodles here after much persuasion, and guess what?
He didn't like it at all, claiming it was too sour and cold for him. So I broke up with him that day.
Kidding, we broke up for another reason.
Anyways, I love how this place brings back so many memories, both good and bad. But now, I can visit this place knowing that I'm a stronger person.
| | |
| --- | --- |
| | 58 Tanjong Pagar Road, Singapore 088479 |
| | 11:30am to 3:30pm, 5:30pm to 9:30pm daily |
| | 6224 6061 |
| | Order on GrabFood |
Eating alone is not sad
I guess we're all bound to fall in and out of love. If you're reading this and just broke up, don't worry, everything will be fine. Don't be too hard on yourself and know that time will heal you. As much as I have said that I have given up on dating, this is only a passing thought.
I will probably start when I am ready or when I meet the "right one". Remember to love yourself and treat yourself whenever you need or want to. You definitely deserve it!
Share with me stories of what you've learnt after experiencing heartbreak here!
What's Your Reaction?
I have a different opinion
0
Thank you for sharing your story
1