Can't Handle Overly Sweet Desserts? Here Are My Go-To Spots As A Sugar-Anti

Desserts for those who can't handle sugar
Like any other kid, I used to enjoy eating sugar growing up. I couldn't say no to any of the desserts placed in front of me. When I was in Primary 2, my classmate gave everyone a slice of cake for her birthday party. And I couldn't wait to eat it. However, my mother told me not to as there was dinner at home. Naturally, I didn't listen. However, I started gaining weight a while later and my mum blamed that particular cake which, honestly, is quite funny.
Fun fact: I gained 10kg during my polytechnic days, thanks to my daily snacks. That's why I became more health-conscious as I grew older and began limiting my intake of sugary drinks. It sucked but I had to. Eventually, sugar started to turn me off and my body couldn't handle it. Of course, on rare occasions, I'll still crave desserts and sugary food. And on those days, here's where I would go.
Tea Pulse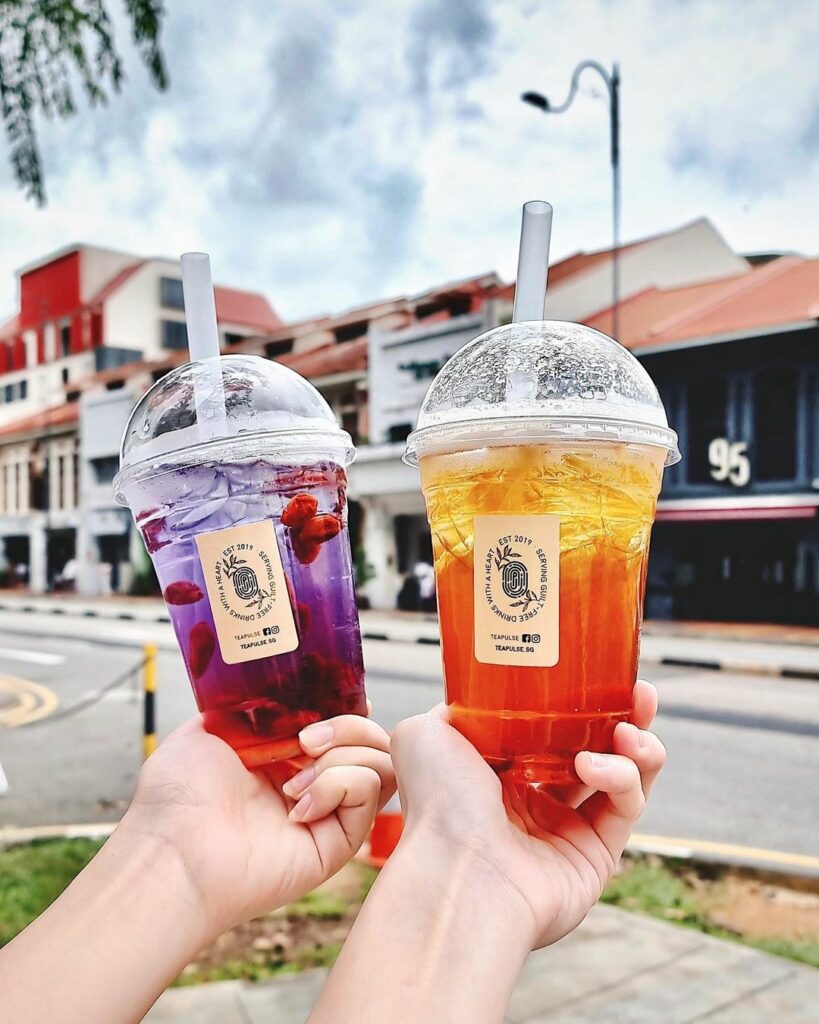 I have been drinking bubble tea since I was a kid. I recall skipping meals just to get my favourite blue coral ice blend from the nearby mamak shop. Bubble tea was a comfort drink that made everything in my life better. Perhaps that's why I started drinking it every day. Specifically, milk tea with pearls. Yeah, yikes. Unfortunately, we all age. I started realising that I was gaining too much weight so I painfully switched to 0% sugar. Yes, 0%. Don't @ me!
That's when I discovered Tea Pulse, an alternative bubble tea shop that serves kombucha in bubble tea form.
My favourites are their Purple Sweet Potato Smoothie ($6.40) and French Rose Kombucha ($4.80), which are topped with Chestnut Pearls ($0.80). I know sweet potato in a drink doesn't sound appealing but really, anything for health.
I was expecting something weird, but the kombucha here is surprisingly addictive. Oh but FYI, their French Rose Kombucha has laxative effects. I found out the hard way when the kombucha started working its magic while I was at work. Nonetheless, this place has become my go-to spot for healthy bubble tea.
| | |
| --- | --- |
| | 3 Phillip Street, #01-04, Royal Group Building, Singapore 048693 |
| | 10:30am to 7:30pm (Mon-Fri) |
| | 8742 8272 |
| | Order on GrabFood |
Whisking Bakes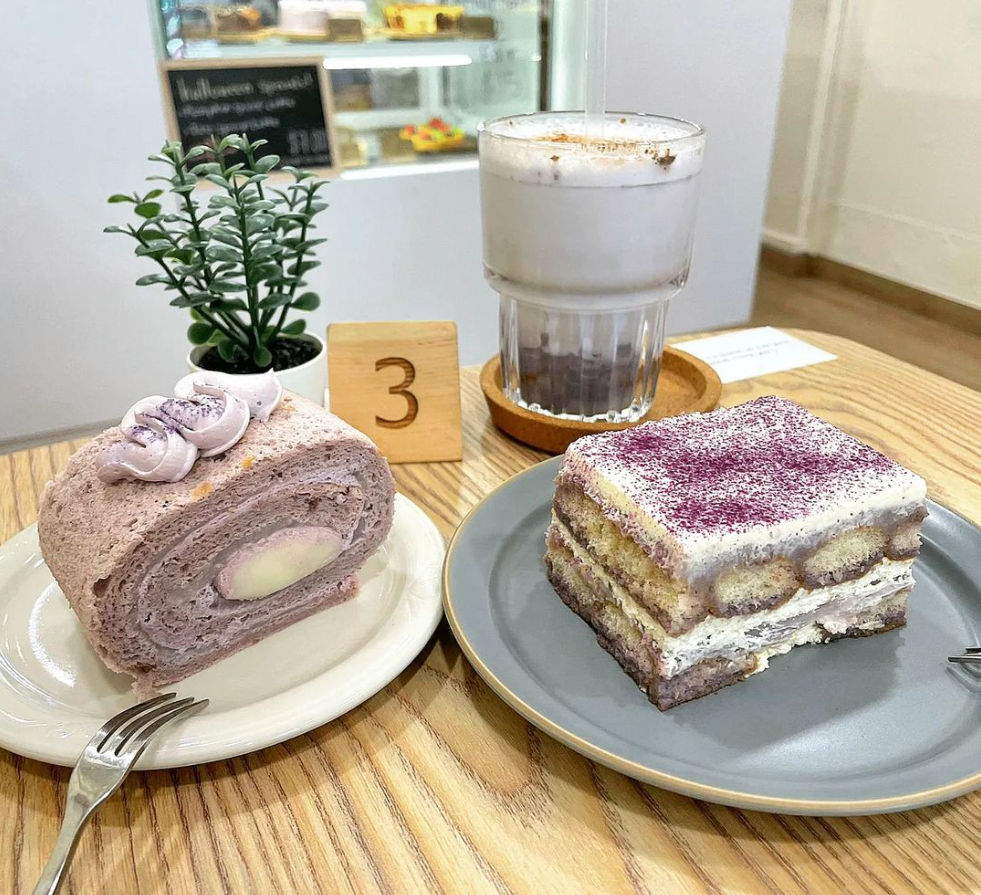 I started falling in love with taro after trying it at plenty of weddings. Specifically, orh nee which is yam paste with gingko nuts. I think it was its creaminess and distinct flavour that drew me in. I remember having at least two bowls of it whenever I saw it.
So when I heard that a taro-only cafe was opening in Singapore, I knew I had to go. Plus, the Internet hype got me curious. I've tried some of Whisking Bakes' most popular desserts, including Taro Mochi Swiss Roll ($5.50), Tiramisu ($6.50), and Taro Burnt Cheesecake ($8).
I love how fragrant the desserts are and they are literally a match made in heaven for me. Plus, taro is quite healthy so eating it doesn't turn me off.
As someone who grew up visiting the area often, I also like how Whisking Bakes is close to Golden Mile Food Centre as it brings back fond memories of my sugar-filled days.
| | |
| --- | --- |
| | 466 Crawford Lane, #01-08, Singapore 190465 |
| | 12pm to 10pm (Wed-Tues) |
| | 8850 5918 |
| | Order on GrabFood |
An Acai Affair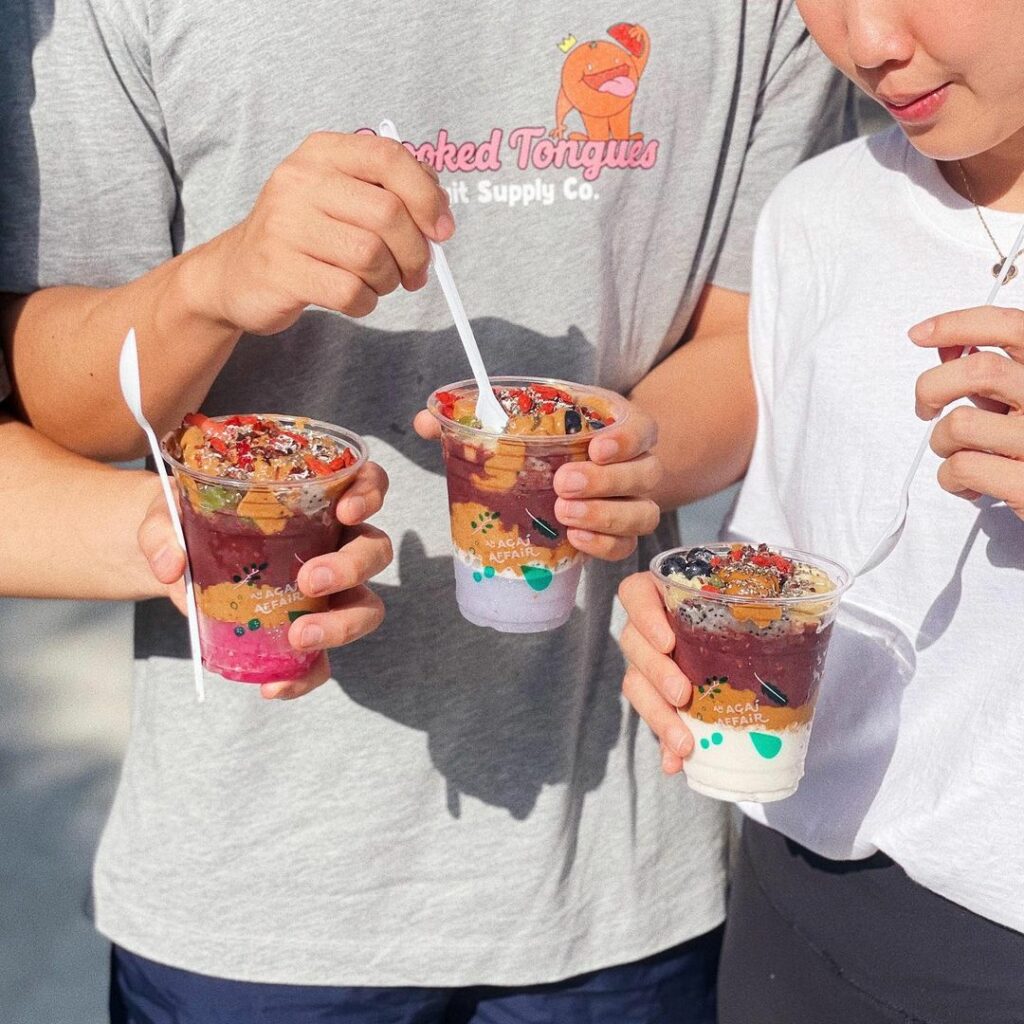 As Gen Z-ers, my friends and I are OBSESSED with acai. There is something addictive about acai, no matter how full I am. I remember my best friend bringing me to Project Acai, where we shared a cup of it and I fell in love with it right away. I like how I can have it at any time of the day and it can never go wrong.
After trying pretty much every acai spot in Singapore, I would pick An Acai Affair as my favourite. The acai here is thicker and more consistent. It's also very reasonably priced for its size.
I particularly enjoy the Nutty Party ($9.90), which is served in a medium cup and contains a variety of granolas and nuts that add a nice crunch to the overall experience. Just the perfect size to satisfy my cravings.
| | |
| --- | --- |
| | 63 Jurong West Central 3, #03-60, Jurong Point, Singapore 648331 |
| | 10:30am to 10pm daily |
The Dark Gallery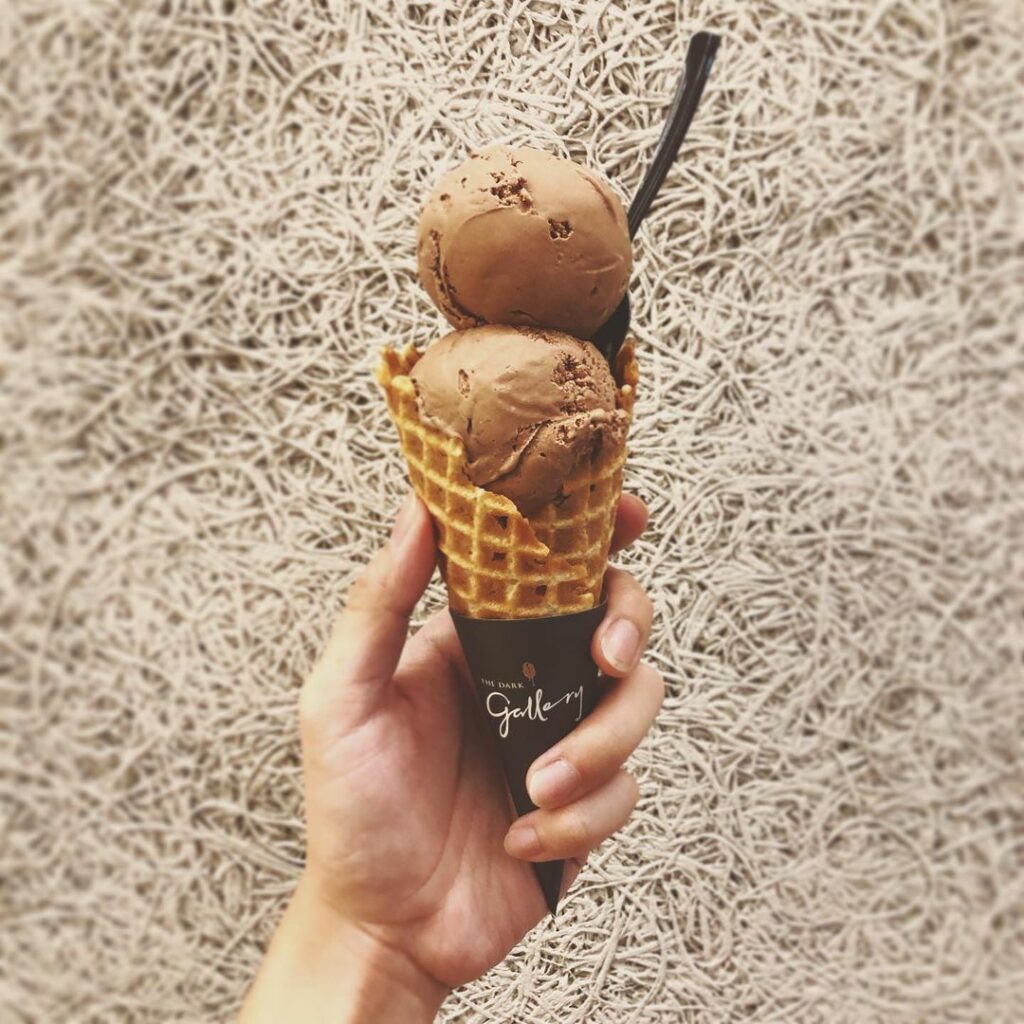 I used to love KitKats, Kinder Buenos, and Hershey's chocolates. I loved them so much that I would be the most excited person in class whenever we got them during Children's Day. However, after dieting, I reduced my intake of high-sugar foods and replaced them with dark chocolate.
I know some of you might just cringe at this because it is 'bitter' but I swear it isn't—at least in ice cream form.
Fun fact: Dark chocolate can help in weight loss too.
That's why I will always love the day I discovered The Dark Gallery. I was thrilled to see so many chocolate desserts. It was a paradise for me. Chocolate just makes me happy and it has really helped me when I am stressed or having period cramps. It is really pretty much a comfort food for me when things are bad.
I love how their ice cream is extremely rich and creamy in texture. We're talking a super 'gao' flavour that still feels premium. Fret not, the chocolate here isn't bitter at all. Everyone should give it a shot because dark chocolate isn't all that bad.
| | |
| --- | --- |
| | 391 Orchard Road, #B2-29, Takashimaya Shopping Centre, Singapore 238873 |
| | 10am to 9:30pm daily |
| | 6935 2603 |
| | Order on GrabFood |
Xiao Gege Snowball Mochi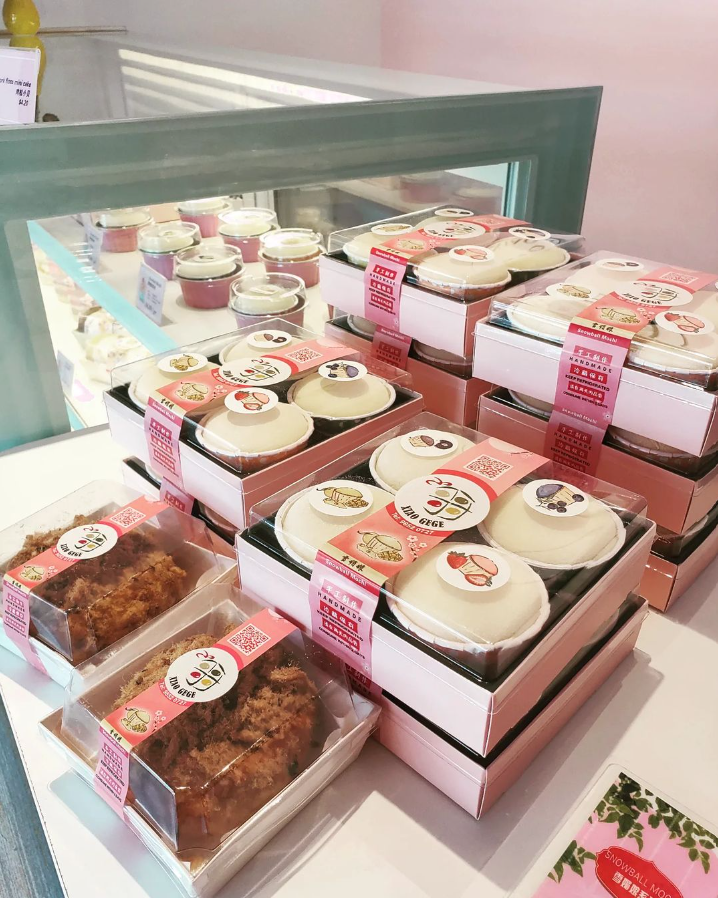 Mochi with less sugar and no preservatives? Hell yeah, I'm sold. I'm always up for chewy mochi with a generous filling. Maybe because its texture is similar to the muah chee I used to eat at pasar malam near my house.
I happened to chance upon Xiao Gege when I was in Chinatown having my favourite chewy tang yuan from 75 Ah Balling Dessert. And the excitement from my pasar malam days started flooding in.
As an adventurous individual, I love trying new food, especially interestingly flavoured food. I mean YOLO, right? I was intrigued by some weird flavours they offered such as Purple Sweet Potato Mochi ($3.50), White Rabbit Cake Roll ($7.50) and Salted Egg Yolk Meat Floss Mochi Cake ($4.20).
Thankfully, I loved all those flavours as the mochi pretty much melts in your mouth. It's interesting to see meat floss on a cake too, as I used to have it with my home-cooked plain porridge when I was younger. Really tasted nostalgic and I just felt that it was cool that they actually came out with this in Singapore.
| | |
| --- | --- |
| | 5 Banda Street, #01-90, Singapore 050005 |
| | 10am to 8pm daily |
| | 9102 4150 |
Enjoying desserts as someone who can't take sugar
Due to my insecurities and the desire to lose weight due to societal pressures, I try to limit my sugar intake, which causes my taste buds to become unable to tolerate sugary foods. Desserts, in my opinion, are acceptable as long as they are consumed in moderation! I really appreciate desserts that are generally not too sweet and I strongly recommend others to try it too!
I am someone who can't handle sugar and this is my story. Now tell me yours!
What's Your Reaction?
I have a different opinion
0
Thank you for sharing your story
3